The Jacob Marschak Interdisciplinary Colloquium on Mathematics in the Behavioral Sciences at UCLA
CHARLES E. YOUNG RESEARCH LIBRARY MAIN CONFERENCE ROOM 11360
MAY 17, 2016 | 3 to 4:30 P.M.
Reservations are requested to Marschak RSVP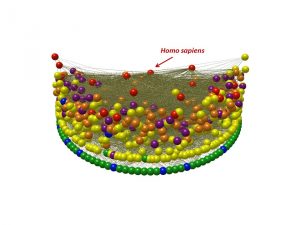 Human Roles, Behavior, and Impacts in Complex Ecological Networks
Speaker: Jennifer Dunne, Vice President of Science, Santa Fe Institute
Host: Dan Blumstein, Ecology and Evolutionary Biology, UCLA
Most studies of the relationships of humans and ecosystems are presented in terms of human impacts on ecosystems. However, Dunne posits that our ability to understand and mitigate such impacts depends on research identifying the roles humans play in ecosystems and how humans interact with other species.
Dunne will discuss how the analysis and modeling of food web structure and dynamics provide a useful framework for quantifying ecological roles and behavioral impacts of species. This research is providing new ways to explore questions related to the sustainability of socio-ecological systems. She will highlight several projects that address how humans fit into, and impact, ancient, historic, and current ecosystems using an ecological network framework.
Dunne received a PhD in energy and resources from UC Berkeley.